Daniel Measurement and Control
Daniel Measurement and Control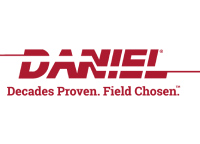 Daniel® Differential Pressure Fittings And Plates
Daniel® Senior Dual-chamber Orifice Fittings
Daniel® Simplex Single -chamber Orifice Fittings
Daniel® Orifice Plates
Daniel® Orifice Flange Unions
Accurate, Reliable and Easy-To-Use
With over one million Daniel™ Senior™ Orifice Fittings in service worldwide, this differential pressure flow meter reigns as the most widely used device for unparalleled measurement accuracy in accordance with AGA 3, API 14.3 and OIML 5167. The industry-leading dual-chamber design saves time and money by providing a fast, safe, and extremely simple method of changing orifice plates under pressure to prevent unscheduled downtime. A unique plate carrier ensures superior concentricity to reduce measurement uncertainty and also allows the fitting to be mounted in a vertical or horizontal plane. No need for costly bypasses or additional valves that are required with conventional orifice flanges simplifies installation and startup.
Technology: Differential Pressure
Service: Liquid & Gas
AGA3 / API 14.3 standards compliance
Size: 2" – 24" (50mm – 609mm)
Max. Operating Pressure: ANSI 2500
Process Temperature: 29O C – 71O C
Daniel® Liquid Turbine Meters Product Lines
Daniel® Series 1200 Liquid Turbine Meters Products
Daniel® Series 1500 Liquid Turbine Meters Products
Daniel® Xrt Totalizer
Turbine Meter Theory
The basic theory behind Daniel liquid turbine meters is relatively simple. Fluid flow through the meter impinges upon the turbine blades which are free to rotate about an axis along the center line of the turbine housing. The angular (rotational) velocity of the turbine rotor is directly proportional to the fluid velocity through the turbine. These features make the turbine meter an ideal device for measuring flow rate.
The output of the meter is taken by an electrical pickoff(s) mounted on the meter body. The pickoff's output frequency is proportional to the flow rate. In addition to its excellent rangeability, a major advantage of the turbine meter is that each electrical pulse is also proportional to a small incremental volume of flow. This incremental output is digital in form, and as such, can be totalized with a maximum error of one pulse regardless of the volume measured.
The turbine meter and associated digital electronics form the basis of any liquid metering system. An expanding blade hanger assembly holds the turbine rotor in alignment with the fluid flow. The angle of the turbine blades to the stream governs the angular velocity and the output frequency of the meter. A sharper blade angle provides a higher frequency output. In general, the blade angle is held between 20º and 40º to the flow. Lower angles cause too low of an angular velocity and loss of repeatability, while larger angles cause excessive end to thrust.
Daniel® Control Valve Product Lines
Daniel® V707 Spring Loaded Back Pressure
Daniel® Series 700 External Pilot Operated Liquid
Daniel® Series 7nl Nitrogen Loaded Liquid Control Valves
Daniel® Series 7nl Nitrogen Loaded Liquid Control Valves
Daniel® Series 788 Digital Control Valves
Precise Flow Control of Petroleum Products
Whether your application is pipeline control or blending, flow rate or pump control, Daniel has the control valve you need. All Daniel 700 Series control valves are self-contained and externally pilot-operated, so one basic valve can perform many different functions. Multiple pilot arrangements, easily modified, allow you to choose or change valve capability as required.
Unique design features and unit-built construction assures positive sealing, linear valve action, uniform fast response, and leak-proof performance. In addition, the basic valves body and internals are the same throughout the line, simplifying spare parts inventory and reducing costs.
Each 700 Series model is designed for general control applications using an external pilot for multiple control functions. These valves can be installed in a horizontal or a vertical line with flow direction vertical up.
Spare Parts Kits
Intuitive Kit Design for Uninterrupted Performance
Promote the use of 100% Genuine Daniel parts.
Kits are cost-effective compared to purchasing separate spare parts.
Save on future repair and maintenance costs.
Extends the life of the product.