Fluenta Flare Gas Meter

Why Measure Flare and Vent Gas?

Flare and vent systems are primarily installed for safety and waste gas disposal purposes.
Flare and vent gas measurement systems are installed to monitor gas volumes for:

Legislation
Environment
Mass balance & flare line leaks

How can measuring flare gas save you money?

Accurately providing flare gas figures, avoiding unnecessary fines and tax
Identify and monitor mass balance errors
Accurate flare gas volumes can help you understand any potential for capturing and using, or potentially selling, the associated gas.

   

Understand flare gas volumes to set realistic reduction targets

Challenges in Flare Gas Measurement

Large gas flow velocity range (0.03 – 120 m/s) – 4000:1 turndown
Variety of pipe diameters
Low pressure
Variable gas composition (CO2, H2, H2O),
Challenging process conditions

– CO2, H2S, dirt, wax, condensate
– Exposure to erosion or corrosion (exotic materials)

Accuracy without pressure drop
– Non-intrusive measurement requirements

Global fiscal requirements
Accurate measurement (calibration, yearly maintenance)

Certification: IECEx,ATEX,NRTL,TR-CU,INMETRO/Ingress :IP 66
Flow Computer: Exde(ia)IICT6, Tamb: -40 °C to +60 °C (Zone 1) 
Sensors: EX ia IIC Zone 0
Time-of-flight / Wetted Non-intrusive std.
High Turn Down Ratio: 4000:1 
Repeatability: Better than 1%
Resolution: 0.003 ft/s (0.0008 m/s)

Typical flare gas meter installation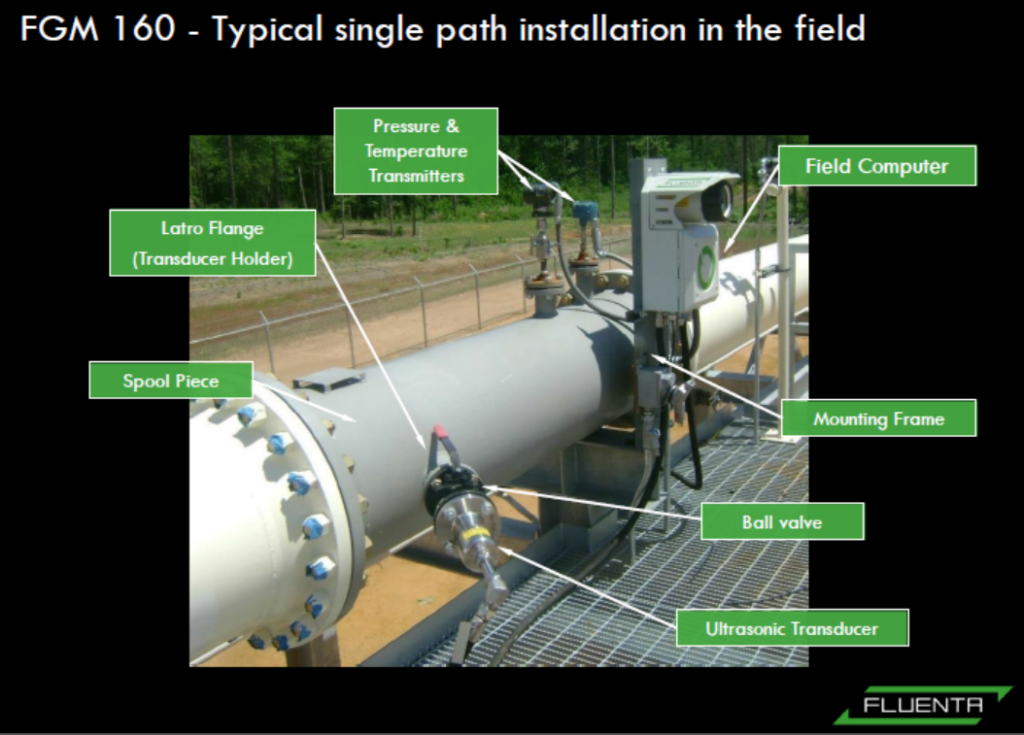 Key applications
Fluenta's products are robust, reliable and accurate. The Fluenta flare gas meter product range supports customers with:
Measurement of flare gas
Monitoring flow of gas
Environmental and regulatory compliance
Key industries
Our ultrasonic measurement transducers support industries operating in the most extreme and hostile environments on Earth, including:
For three decades we have continually pioneered flare gas measurement instrumentation that futureproofs client and regulatory needs.
FGM 160 and FGM 160 Dual-Path
FGM 160 and FGM 160 Dual-Path
At the heart of the system is the FGM 160 flare gas meter. Designed for the most rugged environments and deployed in harsh conditions around the world, this field computer provides accurate measurement of flare gas across a wide range of operating parameters. The FGM 160 provides flow, mass flow, molecular weight and a range of other data through all commonly used industrial protocols. The FGM 160 Dual-Path provides all the advantaged of our FGM 160 system with an extra measurement path, offering increased accuracy and full redundancy.
Transducers