Motor Control Centre (Mcc) / Power Control Centre (Pcc) Panels
A MCC / PCC is an assembly of one or more enclosed sections having a common power bus and principally containing control units. MCC/PCC are in modern practice a factory assembly of several motor starters / power feeders. A motor control centre can include variable frequency drives (VFD), programmable controllers, metering and may also be the electrical service entrance for the building.
These panels consist of one or more vertical metal cabinet sections with power bus and provision for plug-in mounting of individual compartment controllers. Very large controllers may be bolted in place but smaller controllers can be unplugged from the cabinet for testing or maintenance. Each compartment contains a contactor or a solid-state motor controller; overload relays to protect the feeder, breaker, timer, switch, fuses & other accessories or a circuit breaker to provide short-circuit protection, and a disconnecting switch to isolate the feeders.
Three-phase power entry can be from top or bottom is wired to terminals in the controller. Separate wire ways for field control and power cables.
Power Distribution Board
A distibution bord is a component of an electricity supply system that divides an electrical power feed into subsidiary circuits, while providing a protective fuse or circuit breaker for each circuit in a common enclosure. Normally, a main switch, and in recent boards, one or more residual-current devices (RCD) or residual current breakers with over current protection (RCBO), are also incorporated.
Distribution boards may be surface-mounted on a wall or may be sunk into the wall. The former arrangement provides easier alteration or addition to wiring at a later date, but the latter arrangement might be neater, particularly for a residential application. The other problem with recessing a distribution board into a wall is that if the wall is solid, a lot of brick or block might need to be removed—generally for this reason, recessed boards would only be installed on new-build projects when the required space can be built into the wall.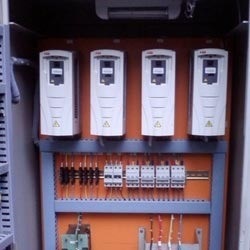 Variable Frequency Drives (Vfd) Panels
There are many components you can put inside a VFD control panel. There are many use of VFD Panels which are as Follows:
VFD – The main component of the motor control panel. The VFD inside will vary in voltage, horsepower, full load amps (FLA), and other specifications. Sometimes you may find redundant VFDs installed in case of a VFD failure.
Line reactors – 3% or 5% to reduce harmonic distortion.
Harmonic filters – a more effective way to reduce harmonic distortion.
Circuit breaker – protects the electrical circuit from overload or short circuit.
Bypass – keeps the system running even if the VFD fails.
PLC – Programmable Logic Controller – for more advanced operations Modem – for communication purpose.
AC or other cooling units – keeps the panel at a certain temperature depending on surrounding environment.
Soft-starter – starts motor slowly but without speed control.
A Surge protector – protects the system from voltage spikes.
Multiple motor overloads – an option for powering multiple motors off one VFD, typically used on fan walls.
Anti-condensation heater (available in NEMA 3R panels) – eliminates the build-up of dew inside the VFD panel
Motor starters – for running motors across the line.
 Instrument Panels
Communicates between field instrument and control room equipments mounted.
PLC – Programmable Logic Controller, Controllers, indicators for more advanced operations.
Modem – for communication purpose.
 Marshalling Rack, Relay Logics.
Annuciator & Mimics.
AC or Other cooling units – keeps the panel at a certain temperature depending on surrounding environment.